School bus safety technologies and tools
A portfolio of safety technology products is available on the marketplace aimed at reducing the loss of life and serious injuries of students. Here is a description of some of those technologies.
Danger zone detection:
Radar technology is being used to alert bus drivers of the presence of a person in the danger zone under and around the bus. The system sends an alarm to alert the driver of a possible presence in the danger zone. Alarms and voice communications outside the bus warn pedestrians in the danger zone.
School bus route planning software:
Not only valuable for school transportation management and scheduling, these software products can help a school district develop an efficient route system that also eliminates or minimizes the number of stops that require a student to cross the highway to enter or exit the bus.
Swing-arm or crossing arm or electronic undercarriage sensor and alarm:
Children are often tempted to retrieve a dropped item or short-cut under a school bus bumper. According the National Coalition for School Bus Safety, last year more than 20 children were run over by their own school bus. This safety device helps prevent tragedy.
GPS:
More school systems are catching on to the idea of GPS tracking for their school bus routes. Fleet tracking systems not only can lead to fuel and time savings; they can help address student safety issues by tracking a bus in the event of a crisis or emergency. GPS units can monitor for location and rate of vehicle speed, so if a crash were to occur, emergency personnel could be notified immediately.
Strobe lights
: Strobe technology is commonly used by police, fire and other emergency vehicles for greater visibility. A strobe stop light canbe seen at three times the distance of the standard incandescent flasher.
"Black box" recording monitor:
These electronic devices can record speed, number of hours of driver operation, length of time at each stop, crash forces and more.
Rearview mirror and camera system:
This technology features a small camera placed at the rear of the bus that translates a live image of the back of the bus when it is in reverse. The high-resolution image is viewable from the driver's review mirror.

TheHawkeye.com: School buses given 'eyes'

Burlington district using cameras in connection with new state law.
Stop arm violation cameras:
Stop arm violations have become more frequent in recent years, thus precipitating the development of automatic stop arm violation camera systems.
In 2011, the Association of State Directors of Pupil Transportation Services conducted the first national survey of this dangerous behavior. The study monitored stop arm passing incidents on nearly 112,000 buses in 28 states and found that in just one day, bus drivers recorded more than 76,000 illegal passes, which equates to more than 13 million illegal maneuvers nationally in a typical school year.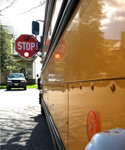 In Iowa, 2,295 school buses recorded 327 such incidents one day in May 2011, the vast majority on the left side of the bus where the stop arm is extended.
The video technology is being used or has been tested in some Iowa school districts to capture illegal passing events, vehicle makes, models, license plate numbers, and most importantly, images of offending drivers. These are all elements needed to seek stop-arm violation prosecution. In some instance, the technology to capture the passing event and vehicle information can be retooled using the traditional onboard school bus camera system.
The Spencer Community School District is one of the schools that conducted a Stop Arm Camera Study Program. Daniel Schultz, transportation supervisor, said: "This program has been a great success and I fully recommend it to continue to grow (and) I would like to see every school district have a camera mounted facing forward not only looking back."
Once a stop-arm violation is observed, the bus driver triggers a sensor to time-mark the video. Embedded with GPS and mapping, the payback software enables the transportation department to study the passing events in details.
---
Why no seat belts?
Information from all types of school bus crashes demonstrates that the current school bus design provides a high level of protection to occupants.
Instead of requiring seat belts, school buses are designed and constructed differently from passenger cars. School buses protect passengers through "compartmentalization," a design that includes:
Seats with high backs;
Seats filled with energy-absorbing material;
Seats placed close together to form compartments;
Strong seat anchorages.
Studies have shown that adding seat belts to the current seating configuration of a school bus can increase the chance of head and neck injuries. For a seat belt to be effective, it must be worn correctly, snug and on the upper thighs. Because school vehicles carry passengers from the very young to high school students, if seat belts were used, they would need to be readjusted and their use monitored. A seat belt not worn correctly may cause serious injuries.