Plans and guidelines
Documents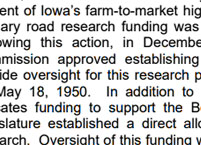 Iowa Highway Research Board Business Plan
In 1949, the Iowa General Assembly enacted legislation that designated 1.5 percent of Iowa's farm-to-market highway funds for secondary road research. Primary road research funding was already permissible under existing laws.

View business plan
Guidelines - required format for Iowa Highway Research Board (IHRB) proposals
The following instructions are intended to help researchers prepare a proposal that will be acceptable for review by the IHRB. Proposals must comply with these requirements to be considered by the IHRB.

View instructions