Listen to Highway Advisory Radio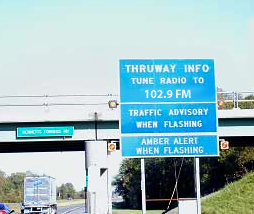 Highway advisory radio (HAR) provides traffic information to motorists along our highway system. Iowa has three HAR sites that use low-powered FM signals. They are located along the I-80 corridor near Adair and DeSoto, I-29 near Sloan, and I-380 near Urbana.
Due to FCC restrictions on available frequencies, use of low-powered FM HAR is not feasible in metropolitan areas. In the Des Moines area, Iowa DOT is using the new generation of AM radio (SuperHAR) technology to reach greater numbers of motorists with real-time traffic information relating to the reconstruction of I-235. The AM SuperHAR uses the same voice recognition technology and programming utilized in automating the low powered FM HAR deployments. Two AM SuperHAR transmitters have been installed in Des Moines.
HAR is an extension of Iowa's 511 travel information system. The information supplied to travelers includes all that is available through the CARS/511 system, as well as any alerts.
State HAR map
(
Uses Real Player
)
Existing highway advisory radio locations :
Des Moines, DeSoto, Adair, Oakdale, Davenport, Sloan, Sioux City and Urbana.
Stations
Sioux City 1680 AM
|
Sloan 94.5
|
Council Bluffs 1680 AM
|
Grimes 1670 AM
|
Adair 102.9
Des Moines 1670 AM
|
DeSoto 104.9
|
Urbana 99.9 FM
|
Oakdale 1680 AM
|
Davenport 1680 AM