Collaboration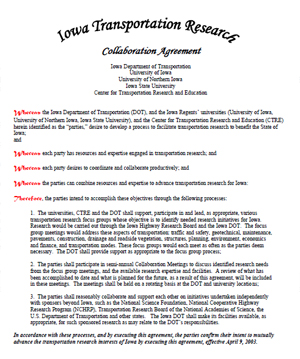 The Iowa DOT has entered into a formal Transportation Research Collaboration Agreement with the University of Iowa, Iowa State University, University of Northern Iowa, and the Center for Transportation Research and Education (CTRE) at Iowa State. The purpose of the collaboration is to facilitate transportation research to benefit the State of Iowa.
Semiannual collaboration meetings are held to discuss proposed research projects, bring new ideas to the table, review research needs, and explore the expertise and facilities available for research projects. The collaboration partners also look for new ways to serve the state through regional and national research collaboration. Meeting sites rotate among member agencies, enabling parties to get to know each other's staff and capabilities.
Focus group meetings are held to generate ideas and recommend priorities for a wide range of research areas. A list of the focus groups and meeting schedules can be viewed by clicking the link below. Focus groups may include representatives of the Iowa DOT, universities, industry, consultants and other transportation professionals. The results are reviewed and discussed by the collaboration partners.
Collaboration documents

Collaboration agreement

Collaboration business plan

Contact list

Focus groups and meetings

Introduction to Iowa DOT research functions