Study Reports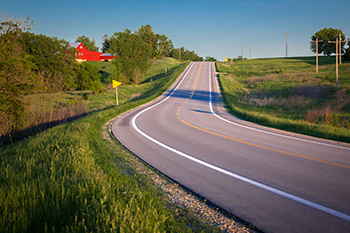 Sections along state highways and Iowa Interstates that are candidates for improvement are identified from public input, the Iowa Transportation Commission and other offices within the Iowa DOT. The Office of Location and Environment's (OLE) location section evaluates multiple routes for new highways, called corridors, to minimize impacts to the public and natural environment. A bypass around a town is an example of a new corridor.
Sometimes the existing highway route is fine, but it needs improvement because of increased traffic or safety issues. Other examples would be expanding a two-lane highway to a four-lane or remodeling an interchange to improve its operation.
To find out what might be affected by a road project, staff reviews existing documents (maps, aerial photograph's and reports) to see if anything has been found before or to identify areas that need further investigation. Then a visit is made to the area by OLE staff to take pictures and make notes to either clear the area for construction or mark areas needing protection.
Office of Location and Environment | 800 Lincoln Way, Ames, IA 50010
Ph: 515-239-1225 | Fax: 515-239-1726 |
Staff listing