Programmatic Agreement Between the Federal Highway Administration, Iowa Division and the Iowa Department of Transportation Regarding the Processing of Certain Categorical Exclusion Actions.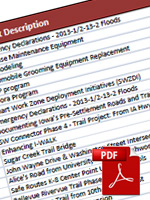 This report contains the list of projects certified as categorical exclusions as defined by the 2011 agreement between FHWA and Iowa DOT.
Coordinate with FHWA to determine the level and type of documentation needed for a project.
Coordinate or conduct the development of a document that describes and evaluates expected social, economic, and other impacts to the human and natural environment, for alternatives being studied on a highway improvement project.