Inspection report copies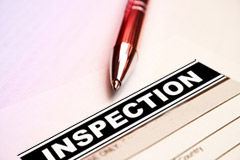 A motor carrier may request a copy of a single inspection report by submitting a faxed request to the Iowa DOT's Office of Motor Vehicle Enforcement at 515-237-3387. The faxed request must be made on company letterhead, include the driver's name and the inspection report number, and must be signed by a company official responsible for the maintenance or accuracy of carrier records. The requested inspection report will be sent to the carrier by return fax or e-mail if provided.
A motor vehicle carrier seeking copies of more than one inspection report must submit the request by U.S. mail on company letterhead and include all of the above mentioned information for each inspection requested. The fee for multiple inspection copies is $1 per report. Payment in the form of a check payable to the Iowa Department of Transportation is required with the request letter. No other form of payment will be accepted. Do not send cash.
Due to the inspection reports containing personal information, a motor carrier will be required to have filed a Privacy Act Agreement for Request of Motor Vehicle Record(s) with the Iowa DOT's Office of Motor Vehicle Enforcement. No inspection reports will be provided unless the form is on file. If the carrier changes its names, a new privacy form will need to be filed.
The form can be filled out online, printed and faxed; or the form may be printed, filled out by hand and faxed; to the Office of Motor Vehicle Enforcement's fax number 515-237-3387.