Motorcycle rider education in Iowa questions and answers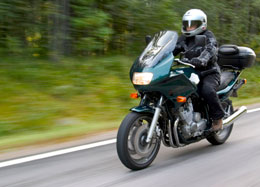 What is the Motorcycle Rider Education (MRE) Program?

Who teaches it?

Who can or must take it?

What does it cost?

Where can I take it?

How can I get a motorcycle operator's manual?

Stay Alert - Stay Alive brochure

Motorcycle Safety Foundation

Motorcycle safety
Motorcycle safety spring tune-up message
---
What is the Motorcycle Rider Education (MRE) Program?
Iowa has a quality Motorcycle Rider Education (MRE) Program administered by the Iowa DOT's Office of Driver Services. Iowa's MRE Program teaches Basic Rider Course (BRC) and the Basic Rider Course II (BRC II) of the Motorcycle Safety Foundation (MSF). The BRC has a minimum of 15 hours of core instruction — five hours spent in the classroom in preparation for 10 hours of range activities. The BRC II has a minimum of five hours — most of which are spent on the range. You must successfully pass a knowledge test, as well as a skill test to receive a certificate of completion..
Basic skills taught include:
Riding in a straight line.
Turning.
Shifting.
Stopping.
The next level of instruction is the application of these basic skills to on-street riding conditions.
---
Who teaches it?
Only Iowa-licensed, MSF-certified rider coaches teach the BRC and BRC II programs.
---
Who can or must take it?
Any person 14 years of age or older, whether licensed or not licensed for motorcycle, may take the course to learn, refresh or improve safe riding skills. The licensing skills test may be waived upon successful completion of the course.
Iowa Code section 321.180B requires any person under the age of 18 who wants a motorcycle license — valid for the operation of a motorcycle — to successfully complete the motorcycle rider education course before the motorcycle license will be issued.
---
What does it cost?
Motorcycle rider education in Iowa is supported in part by an additional fee of $2 per year for a motorcycle validations, a portion from the sale of MRE license plates and the balance comes from the student tuition. Your out-of-pocket cost, which varies by sponsor, ranges from about $115 to $245.
---
Where can I take it?
The training season, somewhat weather dependent, varies throughout the state. However, the course is generally available from early April through mid-October. Sponsors of the BRC or BRC II include 13 of Iowa's 15 community colleges, ABATE of Iowa Inc. and Bandy Motorcycle Training. Iowa also has the Harley Davidson Rider's Edge Program, currently with four sponsors — Big Barn Harley Davidson of Des Moines, Clinton Harley Davidson of Clinton, Hawkeye Harley Davidson of Coralville, and Silver Eagle Harley Davidson/Yamaha Cycle Center of Waterloo. The course is taught at all 15 community colleges, either by the college or the mobile programs of ABATE.
Sponsors, sites and course registration telephone numbers are listed below.
Sponsors
Locations
Telephone
ABATE of Iowa Inc.
Algona
Cherokee
Council Bluffs
Davenport
Forest City
Madrid
Newton
Ogden
Pekin
Shenandoah
Waterloo
641-858-5001
Bandy Motorcycle Training
North Liberty
319-626-2014
Big Barn Harley Davidson
Des Moines
515-265-4444
Clinton Harley Davidson
Clinton
563-242-1901
Des Moines Area Community College
Ankeny
Carroll
515-964-6676
800-342-0033 (toll-free)
Eastern Iowa Community College District
Bettendorf
Clinton
Muscatine
563-336-3320
888-336-3907 (toll-free)
Hawkeye Community College
Waterloo
319-296-4005
Iowa Central Community College
Fort Dodge

800-362-2793 ext. 1970 or
515-574-1970
Iowa Lakes Community College
Emmetsburg
Spencer
800-252-5664
712-362-7231
Iowa Valley Community College District
Marshalltown
800-284-4823 (toll-free)
Iowa Western Community College
Council Bluffs
See "ABATE"
Kirkwood Community College
Cedar Rapids
Iowa City
319-398-1022
800-332-8833 (toll-free)
North Iowa Area Community College
Garner
Hampton
888-466-4222 ext. 4358

Northeast Iowa Community College
Calmar
Peosta
800-728-2256 ext. 399
888-642-2338 ext. 380
Northwest Iowa Community College
Sheldon
800-352-4907 (toll-free)
Southeastern Iowa Community College
Keokuk
West Burlington
800-828-7322 (toll-free)
866-722-4692 ext. 8104
Southwestern Community College
Creston
641-782-1449
641-782-1441
800-247-4023 ext. 441
800-247-4023 ext. 449
Western Iowa Tech Community College
Sioux City
712-274-8733 ext. 6404
---