Kiosks
What can I do at a self-service kiosk location?
Renew your Iowa driverís license or identification (ID) card.
Get a replacement driverís license or ID card if:
Your previous card was lost, stolen, damaged, or destroyed.
You need to change your address.
You want to remove the ďunder 18Ē or ďunder 21Ē marking.
How does a self-service kiosk work?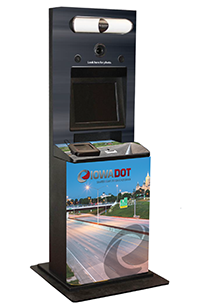 Scan your license or ID or enter your information using the touch-screen.

Take your photo. Facial recognition software is used to match your photo with your previous photos on file with the Iowa DOT.

Answer the questions, confirm your address, and select your preferences.
You must pay with a credit or debit card. (Kiosks accept Discover, MasterCard, and Visa.)

The kiosk will print a proof of your transaction. Your permanent license or ID will arrive in the mail within 21 days.
Who can use a kiosk? (Eligibility Requirements)
To use a DOT kiosk you must:
Have a valid Iowa license or ID (not a commercial driverís license).
Be at least 18 years old, but younger than 70.
Be an Iowa resident and a United States citizen (as shown by the Iowa DOT's existing records).
Not need to make changes to your name, date of birth, sex, class type, endorsements, or restrictions
Not have a current license marked ďValid Without Photo.Ē
To renew your license or ID card at a kiosk you must:
Have a driver's license or identification card that expires within 180 days or has not been expired for more than one year and 60 days. If the expiration date on your card falls between and, you can renew today.
Have renewed your current driverís license or ID card at a driverís license issuance site. Driverís licenses and ID cards may only be renewed online or at a kiosk every other issuance.
Additional requirements for driverís license renewals:
Do not have pending requests for re-examination on file.
Do not have restrictions G, J, T, Q, or R listed on the back of your current license.
Are not required to submit a medical or vision report at the time of renewal.
If you want to add a REAL ID or veteran's designation at the time of renewal, you will need to appear in person. However, if your license already has a REAL ID or veteran's designation, you may renew it at a kiosk and keep that designation.
Questions?
Contact the Iowa DOTís Office of Driver Services by emailing
ods@iowadot.us
or calling 515-244-8725.