Lost or stolen Iowa driver's licenses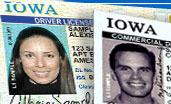 While in Iowa
If your Iowa driver's license has been lost or stolen, you may apply for a duplicate at any
Iowa driver's license issuance site
. The fee will be $10. You may need to provide
proof of identity
when applying for a duplicate license.
While out of state
If your Iowa driver's license has been lost or stolen and you are unable to apply for a duplicate because you are out of state, you may apply for a temporary driving permit (TDP).
Please note that a temporary driving permit is not valid for identification purposes.
You must make an application in writing and include the following:
Your full name.
Your signature.
Your driver's license or Social Security number.
Your date of birth.
An out-of-state address and/or out-of-state fax number.
Let us know if you want the TDP mailed to your out-of-state address or faxed to an out-of-state fax number.
Mail or fax your application to:
Iowa Department of Transportation
P.O. Box 9204
Des Moines, Iowa 50306-9204
Telephone: 515-244-8725
Fax: 515-239-1837