Iowa's driving test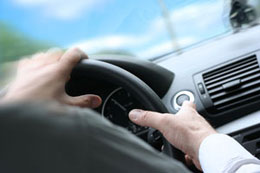 In some cases, once you have passed the vision screening and knowledge test, you will be required to demonstrate your ability to drive safely.
The vehicle you drive for the test must be registered, the license plates must be properly displayed, and you must present the proof of financial liability (insurance) coverage card issued for the vehicle. The examiner will inspect the vehicle's safety equipment: lights, signals, horn, tires, brakes and windshield wipers. If the registration, plates or insurance is not in order, or if any of the equipment does not work, you will not be able to take the driving test in that vehicle until the deficiencies are remedied.
During the driving test, you will not be asked to do anything unlawful. The examiner will sit in the front seat, give directions and score your driving ability.
Study manuals and practice tests are also available on this website.