Reference post maps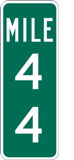 The larger PDF files can be up to 10 MB in size and may take time to load on computers with a slower Internet connection. Please be patient. The maps can be viewed by simply clicking the links or can be saved to your local computer. To do this it is best to right click the "View Map" link and choose "Save Target As..." from the context menu. To obtain additional information about these reference post maps, please call Mark Hansen at 515-239-1990 or email
mark.hansen@iowadot.us
.
DISCLAIMER: The reference post locations on the following maps are approximated and should be used for reference only. Some of the reference post information may now be out-of-date since the production of these maps and will be updated when the Iowa Department of Transportation's Office of Systems Planning receives more current information.
View the statewide reference post map
.
For more detailed maps, use the links to the county maps below.