Winter travel information
The Iowa Department of Transportationís goal during the winter season is to return roads to reasonably near normal winter driving conditions as quickly as possible after a winter storm. The department operates around the clock to clear roads of snow and ice, but motorists also have a responsibility to:
Make sure your vehicle is in good operating condition for winter time driving.
Take time to find out about the weather and road conditions.
Use good driving skills to avoid losing control of your vehicle.
Operate safely around snow removal equipment.
Snowplow safety tips
Use caution when approaching a snowplow.
Never pass on the shoulder side of a snowplow.
Do not assume plow drivers see you. more safety tips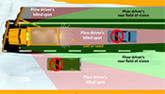 Click to enlarge image
Winter driving tip sheet
Check the weather forecast and road conditions before embarking on a trip.
Before winter strikes, make sure your vehicle is in good working order.
more driving tips
Winter survival kit
Booster cables
Blankets and/or sleeping bags
Candles and matches
Snow shovel and ice scraper
more kit information
Reduce speed
When it snows, use your head not your feet.
Slow down at intersections.
Allow additional space between vehicles.
Avoid using cruise control.
more speed information
Driving maneuvers
Stopping on snow and ice requires extra time and distance.
Accelerate gradually.
Brake early and slowly.
Avoid abrupt steering maneuvers.
Merge slowly.
more driving maneuvers
Trip preparedness
Check your vehicle's tires, brakes, fluids, wiper blades, lights, and hoses.
Before leaving home, find out about driving conditions by calling 511 or visiting 511ia.org.
more trip preparedness