Trespassing
About trespassing and trespasser safety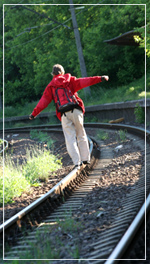 Tempted to take that shortcut across the railroad tracks? Think again.
So, you think there's no harm in searching the underbrush along the tracks to bag a few pheasants? Think again.
Every time you step onto railroad property you are trespassing on private property and violating the law. You could be charged with trespassing, or in this era of heightened security, be questioned by law enforcement or railroad officials about your presence in a suspect area.
Read full article
Trespasser statistics

2005 Iowa Rail Safety Report
Safety data
Federal Railroad Administration, Office of Safety Analysis
-The Federal Railroad Administration's Safety Web site was established for the purpose of making railroad safety information readily available. Visitors can access railroad safety information, including accidents and incidents, inspections and highway-rail crossing data. From this site users can run dynamic queries, download a variety of safety database files, publications and forms, and view current statistical information on railroad safety.