From the ashes of the Rock
The time is the late 1970s. The railroad industry in the U.S. is in turmoil. Transportation needs are changing. The Interstate System of cross-country highways has changed the dynamics of getting freight from place to place. Rail lines no longer have enough traffic or revenue to earn a profit. Yet, as a regulated industry, it is very difficult for railroads to abandon unprofitable lines or adjust rates for changing economic conditions. The debts of railroads are spiraling higher. Track and equipment maintenance is deferred or ignored. And, safety is becoming a real concern. As debts mount, many railroads find bankruptcy the only viable option, leaving customers with no rail transportation.
In light of the mounting crisis that was already affecting many areas of the nation, Congress passed the 1980 Staggers Act. It essentially deregulated the railroad industry.
Deregulation provided the railroads with more flexibility in responding to economic conditions. For some railroad companies, deregulation arrived too late to allow them to survive.
In Iowa, two of five east-west Iowa rail routes – the Chicago, Milwaukee, St. Paul and Pacific Railroad (commonly called the Milwaukee Road) and the Chicago, Rock Island and Pacific Railroad (commonly called the Rock Island) – declared bankruptcy and left hundreds of rail customers with potentially no service.
It was out of the ashes of the bankrupt Rock Island Railroad that Iowa Interstate was born. While Chicago and Northwestern Railroad provided interim service on some Rock Island lines, a coalition of shippers went to work to save the route that was their lifeline. The group formed Heartland Rail Corporation and were intent on purchasing the Rock Island property.
With no profitability, many traditional sources of financing were not available to railroads or potential buyers such as Heartland. To preserve essential rail service in Iowa, the State of Iowa stepped in. In 1981, the Iowa Legislature created the Iowa Railway Finance Authority (IRFA), an independent board with broad powers to acquire, preserve and upgrade rail lines in the state.
In October 1984, IRFA awarded a $15 million dollar loan to Heartland Rail Corporation to help acquire the Rock Island mainline in Iowa and Illinois, at a total cost of $31 million. This was the culmination of years of work to preserve this crucial rail line. Heartland Rail Corporation, the Iowa Department of Transportation, IRFA, legislative leaders in Iowa and Illinois, the newly formed future operator (Iowa Interstate Railroad), as well as others, worked diligently to make the purchase a reality.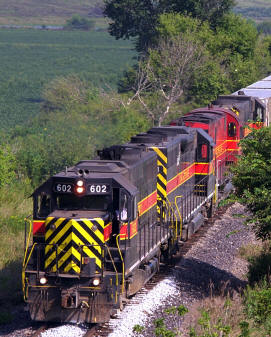 Upon start-up Iowa Interstate Railroad (IAIS) found itself the operator of hundreds of miles of track that were in a sorry state of repair, the victim of years of deferred maintenance. Frankly, there were doubters that the line could become a viable entity, let alone a profitable one. The early years were rough, but the owners kept dual goals in mind--- increase business volume and invest money into the track.
Over the years, investors have come and gone, management has changed, and in 2004 Heartland (the owner of the property) and Iowa Interstate (the operator) were wholly acquired by Railroad Development Corporation. A company headed by Henry Posner III of Pittsburgh, PA.
Today Iowa Interstate, headquartered in Cedar Rapids, Iowa, operates over 500 miles of track between Council Bluffs and Chicago, serving the heart of Iowa through Davenport, Newton, Des Moines, Atlantic, and Council Bluffs, as well as, a branch line from Bureau to Peoria in Illinois. It connects to all major Class 1 carriers at various points on its line, allowing customers to ship their goods to or from anywhere in North America.
This year marks the end of one chapter of Iowa Interstate's story. Proving the doubters wrong, Iowa Interstate will repay in full the remaining balance of the $15 million loan from the State of Iowa.
A new chapter will begin for Iowa Interstate as a major track upgrade project is planned. After a long and arduous application process, Iowa Interstate was awarded a $32.7 million federal loan through the Railroad Rehabilitation and Investment Financing (RRIF) program. This low interest loan will enable the company to restructure its financing, and more importantly, finance track upgrades across the state to handle the heavier rail cars now becoming an industry standard.
Iowa Interstate's journey has been long, and taken the help and cooperation of the state and many individuals and companies. What some viewed as a bad investment at the time has proven otherwise. The citizens of Iowa have been repaid in a number of ways, including a fully repaid loan investment with interest, preservation of a key rail line through the heart of Iowa and serving many shippers, and ensuring there are opportunities for future economic growth for rail dependent industries.
"Several new industries have located on IAIS in the past couple of years, and we hope to attract many more in the coming years. The track program will also increase the railroad speed, as well as handling heavier cars," said President and CEO Dennis Miller.