Back
About abandonments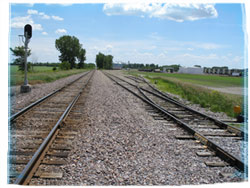 Abandonment and discontinuance of railroad service is allowed by federal law, which permits a carrier to end its obligation to provide common carrier service over a particular rail line.
The
Surface Transportation Board
has exclusive jurisdiction in railroad abandonment cases except when the railroad company is in bankruptcy. The federal courts have jurisdiction when the railroad company is in bankruptcy. The Iowa DOT will actively participate in the abandonment process, except when an abandonment is filed under the exempt procedures outlined in the
CFR Part 1152, Subpart F or 1152.50.
Basically, an abandonment is exempt if the Surface Transportation Board determines it is or if no local traffic has used the line for at least two years and no one files a complaint.
Rails to Trails
Only rail lines that the federal
Surface Transportation Board (STB)
has authorized for abandonment can be converted to trail use. In accordance with
49 CFR 1152.29
and
16 USC 1247 (d)
(the National Trails Act), the STB may defer rail line abandonment to give interested parties the opportunity to negotiate a voluntary agreement with the railroad company for interim use of the right-of-way for recreational trails.
More information on trails use.
Links
If you have any questions on abandonments, please contact Diane McCauley, Modal Division at 515-239-1653.
.