Back
Railroad employee safety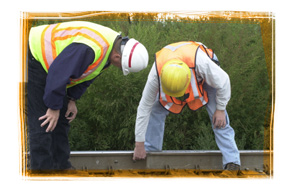 Though most employee safety related regulations are governed by other agencies (Federal Railroad Administration, Occupational Safety and Health Administration and others) a number of Iowa Code sections are directly related to railroad employee safety. Concerns or complaints related to the following Iowa Code sections are reportable to the Iowa DOT.
327F.3 — Catwalks and handrails
327F.14 — Lights on track cars
327F.18-20 — Minimum requirements for caboose cars
327F.34 — Windshields on power cars
327F.36 — Screen Exhaust fire controls
327F.38 — First aid for rail employees
327F.39 Transportation of railroad employees and equipment
To file a complaint relative to the above code sections:
Complainant files a petition/letter outlining the complaint in sufficient detail. A complaint is to be sent to the Iowa Department of Transportation, Office of Rail Transportation, 800 Lincoln Way, Ames, Iowa 50014.

The Iowa DOT logs in the complaint, provides a copy to the railroad and forwards the complaint to the Iowa Department of Inspection and Appeals (DIA) for a hearing.

DIA follows administrative hearings process and renders a decision.

DIA sends case, with decision, back to the Iowa DOT. The Iowa DOT informs the complainant and railroad of the decision.

Within 30 days, either party can appeal. If appealed, the Iowa DOT reviews the case file and renders a decision through the administrative appeals process. If the decision is not appealed, the DIA decision stands.