The vision
A first-rate passenger rail network will provide rail service connecting Iowans to major cities, regional destinations, other transportation connections and many other communities not typically served by commercial air or current passenger rail.
The vision will create a passenger rail network that connects Iowans to each other and the country, and makes Iowa a more attractive place to live, work, and visit.
The vision seeks to integrate passenger rail into the broader multimodal transportation system and promote improved mobility, economic competitiveness, community revitalization, and reduced fuel use and emissions. It is a vision where travel by train is comfortable, efficient and reliable. Implementation will use a conservative, incremental approach — increasing service over time, based on market demand, operational feasibility, and funding.
Iowa currently has the benefit of two national long-distance passenger rail lines that run from Chicago to the West Coast crossing the southern part of the state. However, Iowa's largest communities do not have convenient intercity passenger rail connections to Chicago, Omaha, Minneapolis, and Kansas City.
Iowa has been studying expanded intercity passenger rail since 1996.A coalition of Midwestern states – the Midwest Regional Rail Initiative (MWRRI) - studied the feasibility and economic benefits of a regional intercity rail system. In 2004, the MWRRI developed a comprehensive, coordinated plan for expanded intercity passenger rail based on a "hub and spoke" model with Chicago as the hub.
When Illinois developed a plan to bring passenger rail to Iowa's borders at the Quad Cities and Dubuque, expanded passenger rail serving more of Iowa's population became possible. The creation of the High-Speed Intercity Passenger Rail (HSIPR) program by the federal government, which established a competitive grant program to fund up to 80 percent of capital expenditures made expanded passenger rail achievable. The planning to date for the Chicago to Council Bluff-Omaha corridor and proposed route from Chicago to Iowa City is the result of this planning and competitive funding.
The immediate goal in the first phase of an expanded passenger rail system is to achieve passenger rail service from Iowa City (via the Quad Cities) to Chicago and Dubuque to Chicago, with later phases exploring further expansion.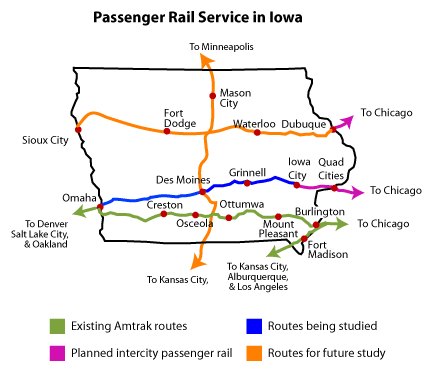 More details