Passenger rail resources
High-Speed Intercity Passenger Rail program
Passenger Rail Advisory Committee (PRAC)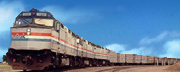 Passenger rail news
Passenger rail development and advocacy organizations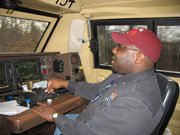 The Midwest Regional Rail Initiative (MWRRI) is a cooperative, multiagency effort that began in 1996 and involves nine Midwest states (Indiana, Illinois, Iowa, Michigan, Minnesota, Missouri, Nebraska, Ohio and Wisconsin) as well as the FRA.
---
Midwest High-Speed Rail Steering Group


The Steering Group, composed of high-level state officials, was established within the memorandum of understanding signed by the governors of Illinois, Indiana, Iowa, Michigan, Minnesota, Missouri, Ohio and Wisconsin, and the mayor of the city of Chicago. The Steering Group coordinates and advocates on behalf of the region's collective high-speed rail interests.

---

Midwest Interstate Passenger Rail Commission


The Midwest Interstate Passenger Rail Commission (MIPRC) brings together state leaders from across the region to advocate for passenger rail improvements. Formed by compact agreement in 2000, the MIPRC's current members are Illinois, Indiana, Iowa, Michigan, Minnesota, Missouri, Nebraska, North Dakota, Ohio and Wisconsin.

---

The States for Passenger Rail Coalition (SPRC) is an alliance of state departments of transportation that supports intercity passenger rail initiatives and advocates for federal funding.

---
Feasibility studies
Feasibility studies are the "first step" to examine the potential for expanded passenger rail services. Ridership and very rudimentary costs are established. Envirnmental studies, engineering plans, freight/passenger rail traffic or congestion conflicts are identified, station requirememts and many other factors follow prior to an implementation plan.
Federal legislation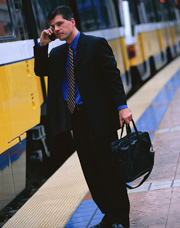 Excursion or tourist railroads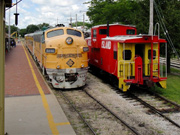 Boone and Scenic Valley Railroad (BSV)
, located in Boone, Iowa is a railroad museum and excursion railroad featuring all three common forms of railroad motive power (diesel, electric and steam.) BSV offers standard rides through the scenic Des Moines River Valley, as well as elegant dinner and dessert trains, and special events, such as visits by Thomas the Tank Engine, holiday rides and others.
Hawkeye Express, operates a number of bilevel, commuter-passenger cars to move fans between historic Kinnick Stadium and satellite parking areas during Iowa Hawkeye's home football games.
Additional links