Passenger rail can benefit Iowans
Iowans reap benefits in multiple ways when passenger rail is expanded.
Energy efficiency that promotes energy independence.
Fewer greenhouse gas emissions for healthier Iowans and a better environment.
Business environment that will create and attract new and retain existing jobs.
More travel options for both business and leisure.
Enhanced business and university recruitment.

Quality of life is enhanced with:
Access to travel for those who do not or cannot drive.
A comfortable, convenient travel option.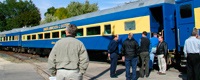 Efficiencies are achieved through:
Speedy and straightforward boarding.
Productive travel time with use of laptops and cell phones en route.