Iowans Getting on Board
How do I get involved?
Support for passenger rail is building. National, regional, statewide and local organizations have been busy planning and advocating for expanded passenger rail.
The Iowa DOT: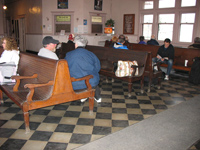 Seeks funding to initiate expanded passenger rail as grant announcements are made.
Continues on going discussions with Amtrak, Illinois and the host railroads on route improvements, cost sharing, equipment, and other details.
Continues discussions with communities along potential routes on depot facilities, intermodal connections and other details.
Facilitates a statewide Passenger Rail Advisory Committee, whose members are helping shape the vision for passenger rail service in the state and make it a reality..
Participates in passenger rail organizations at a national, regional and local level.
Updates Iowa's statewide rail plan that includes passenger rail.
Regional and metropolitan planning organizations are including passenger rail in their future plans. Cities are identifying potential depot locations and developing plans.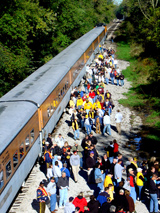 If you share the vision of expanded passenger rail in Iowa, take action today to Get on Board!
Do your homework and get the facts. The Iowa DOT's Office of Rail Transportation Web site is a good place to start to find the information you need to be a champion for passenger rail.
Talk to your local officials about expanded passenger rail service opportunities.
Encourage your state legislators to invest in passenger rail; a list of legislators and their contact information is available at the Iowa General Assembly's Web site.
Join a local rail passenger advocacy group.
Write a letter of support to your local media.
Sign up on the Iowa DOT's Web site for E-mail updates on Iowa's passenger and freight rail.