Grade crossing surface repair programs (GCSRP)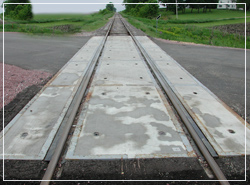 The grade crossing surface repair programs participate in the cost to rebuild highway-railroad grade crossings. These programs assist in maintaining a safe and smooth crossing surface at highway-rail crossings.
Either a railroad or a roadway jurisdiction may initiate discussions regarding surface repair funding. The application must be initiated by the highway authority and approved by the railroad. Applications are accepted throughout the year. To assist in the application process, the following is available.
Eligible projects are funded in the order completed applications are received by the department. The available funding allows a limited number of surface improvements each year. Currently, there is an approximate two-to three-year wait for funding.
Two sources of funding are used to assist cities, counties and railroads with surface repairs.
Nine hundred thousand dollars in an annual appropriation from the Road Use Tax Fund (state program).
One million dollars from the Federal-Aid Highway/Railroad Safety Fund is dedicated to surface repair (federal program).
Projects selected that are funded with Federal-Aid Highway/Railroad Safety Fund may be advanced. A formula that considers the relative risk at a highway-rail grade crossing is applied to those projects in line for funding to annually select those that will be funded using federal funds.
Crossing surface improvements
Surface improvements, planned and funded under this program are approved by the Iowa Transportation Commission.
Projects will be advanced if funding becomes available.
The Iowa DOT also allocates funds from the Primary Road Fund to rebuild and repair highway-railroad grade crossing surfaces on primary roads. This allows the grade crossing surface repair programs to focus on city and county projects, reducing the existing backlog of projects.
The Iowa Code 327G.19 and Iowa Administrative Rules 761-821 is the directive for implementing the state grade crossing program.


Engineering Standards
If a railroad performing or contracting a highway-railroad grade crossing improvement lacks specific company standards, the
joint BNSF/UP engineering crossing standards
shall be used as guidance.
For additional information contact:
Travis Tinken
Phone:
515-290-5055
E-mail:
travis.tinken@dot.iowa.gov
The Funding Guide provides information on this and a variety of other funding programs available for transportation projects.