What is Title VI Nondiscrimination Program?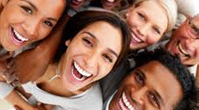 Title VI of the Civil Rights Act of 1964 is the federal law that protects individuals and groups from discrimination on the basis of their race, color and national origin in programs and activities that receive federal financial assistance. However, the Federal Highway Administration's (FHWA) reference to Title VI includes other civil rights provisions of federal statutes and related authorities to the extent that they prohibit discrimination in programs and activities receiving federal financial assistance.
Our nondiscrimination policy statement

It is the policy of the Iowa DOT to comply with Title VI of the Civil Rights Act.
Policy statement
Title VI documents and forms

The forms portion of this library provides access to forms relating to employees, external (nonemployee), and
subrecipients
.
These forms can be found in various formats.
Documents and forms
Complaint procedures
A signed, written Title VI complaint must be filed within 180 days of the date of the alleged act of discrimination. The complaint must include the following information.
Your name, address and telephone number. If you are filing on behalf of another person, include their name, address, telephone number and your relationship to the complainant (e.g., friend, attorney, parent, etc.).
The name and address of the agency, program or organization that you believe discriminated against you.
A description of how, why and when you believe you were discriminated against. Include as much background information as possible about the alleged acts of discrimination
Your signature.
Complaint forms
Complaints must be filed in person or in writing. They should be directed to:
Iowa Department of Transportation
Office of Employee Services – Civil Rights
800 Lincoln Way
Ames, Iowa 50010
Federal and state laws prohibit employment and/or public accommodation discrimination on the basis of age, color, creed, disability, gender identity, national origin, pregnancy, race, religion, sex, sexual orientation or veteran's status. If you believe you have been discriminated against, please contact the Iowa Civil Rights Commission at 800-457-4416 or Iowa Department of Transportation's affirmative action officer. If you need accommodations because of a disability to access the Iowa Department of transportation's services, contact the agency's civil rights/ADA coordinator, Karen Kienast in the Office of Employee Services, 800 Lincoln Way, Ames, IA 50010 or at 515-239-1921. TTY/TDD: 515-239-1514