Research Project
Drilled Shaft Load Testing, I-235 over UPRR
Researcher(s)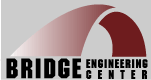 Project status
Completed
About the research
Abstract: On September 26, 2005, a research team from the Iowa State University Bridge
Engineering Center performed a load test to document the behavior of a single drilled
shaft foundation of the eastbound I-235 bridge over the Union Pacific Railroad. The test
was performed on a closed roadway, using two loaded tandem dump trucks positioned
directly above the shaft in question. This test was performed with the trucks in a static
position and no attempt was made to collect data under moving load conditions.