Research Project
Testing and Evaluation of Basket Handle Arch Hangers, I-235 Pedestrian Bridges
Researcher(s)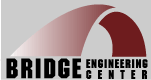 Project status
Completed
About the research
Abstract: This research involves the rationale for, and results of, structural monitoring of two steel basket-handle arch pedestrian bridges which were constructed in stages to minimize traffic disruptions. These bridges utilize a hanger system consisting of high-strength threaded steel rods to support the precast, post-tensioned concrete deck system.

The research team used externally-mounted accelerometers to monitor the free vibration of each
hanger during all incremental construction stages as well as one year after completion. The
acceleration records for each hanger were analyzed using a fast fourier transform (FFT) to
calculate the natural frequency of several modes of vibration. These natural frequencies were
then used to estimate the tensile force in each hanger considering both taut-string theory and the
flexural stiffness of the steel hanger rod.

The results of this work show the value of structural monitoring during construction and indicate
that some moderate changes in structural behavior occurred after the bridge entered service.