Back
Newton Municipal Airport supports NASCAR event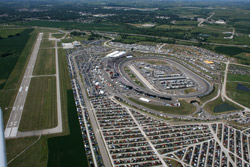 An aerial view of the Iowa Speedway and the Newton Municipal Airport during the 2009 NASCAR Nationwide Series debut in Iowa.
Driver Kyle Busch dominated the 2010 U.S. Cellular 250 NASCAR Nationwide series race at the Iowa Speedway in Newton on July 31. A crowd of more than 55,000 enjoyed good weather and great racing.
Located adjacent to the track, the Newton Municipal Airport played a significant role in supporting the race event as fans, drivers, team owners, NASCAR officials, and media arrived by air for the race. Ramp space was at a premium as both large and small aircraft filled parking slots at the airport, requiring aircraft to call ahead to reserve parking. From the airport, it was just a short walk over to the raceway for those who arrived by air.
Airport manager Ethan Nasalroad said, "the airport is important to the success of the Iowa Speedway and we work closely in partnership with them. With four race weekends this year, it is a challenge to be an average general aviation airport throughout the year, and then gear up to be one of the busiest airports in Iowa on the four weekends when the speedway hosts major races."
Airport operations went smoothly throughout the weekend. The NASCAR race saw a wide variety of aircraft, from small single engine aircraft to regional jets and Saab 2000's carrying entire race crews. According to Nasalroad, practically every race team used the airport throughout the weekend.
A steady string of aircraft departed the airport for several hours following Saturday's race.