Airport certification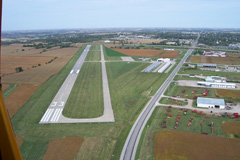 Initial registration of new airports
(public and private-use airports)
Any person or governmental subdivision desiring or planning to construct an airport shall obtain a certificate of site approval from the Iowa DOT's Office of Aviation prior to acquisition of the site or construction of or establishment of the airport.
Federal Aviation Regulations Part 157 also requires all persons to notify the Federal Aviation Administration (FAA) at least 90 days before any construction, alteration, activation, deactivation or change to the status or use of a civil or joint-use (civil/military) airport. The following forms can be used to register airports with the Iowa DOT and FAA:
Iowa DOT Airport Site Approval and New Registration Application
FAA Notice of Landing Area Proposal
Annual re-certification of public use airports
Airports which are open for public use must be certified annually.
The Iowa DOT handles certification of general aviation airports in Iowa, subject to
Minimum Safety Standards
established in Iowa Administrative Code 761-720.
Commercial service airports in Iowa are certified annually by the FAA under
Federal Aviation Regulations (FAR) Part 139 Airport Certification
.
Airports that are eligible to receive federal funds are also required to meet airport design standards set by the Federal Aviation Administration (FAA).
Question relating to airport registration and certification can be directed to the Iowa DOT
Office of Aviation at 515-239-1468.