Support and education
Flight support
Pilots, passengers and aircraft utilizing Iowa's air transportation system rely on a system of flight support businesses located at airports throughout the state (commonly referred to as fix based operations (FBOs)). These businesses provide or coordinate services such as fueling, ground transportation, charter, maintenance, avionics repair, flight training, aircraft rental and sales. FBOs are vital to keeping the air transportation system in Iowa up and running.
Aviation-related industry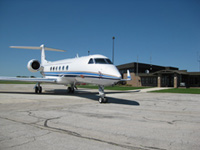 Many off-airport businesses in Iowa are engaged in the aviation and/or aerospace industries. In some instances, these are small businesses manufacturing small numbers of general aviation aircraft each year. In other instances, these are major multibillion dollar employers whose clientele are worldwide in scope, such as Rockwell Collins in Cedar Rapids and Alcoa's Davenport Works in Davenport.
Youth education
Since the beginning of aviation, youngsters have been inspired to look to the sky. Whether through imagination or a real opportunity to taste flight, aviation presents wonderful learning opportunities for children. Aviation education programs for youth provide opportunities to connect aviation to disciplines such as math, science, history, physics and communications.
Programs hosted at airports throughout Iowa such as fly-ins, airshows and youth camps provide firsthand learning experiences for Iowa youth. The Experimental Aircraft Association's (EAA) Young Eagles programs has provided tens of thousands of free airplane rides to Iowa children since its inception in 1992.
Aviation career training
The aviation industry offers a wide-range of career opportunities that include the needs for pilots, mechanics, airport managers, engineers and travel agents to name a few. Several formal
aviation education programs
are available in Iowa.