The map
Figure 1 (click on image to enlarge)
Hovering over an icon on the map will give you brief information about the event (see Figure 1).
Clicking on an icon on the map activates an information bubble for that event (see Figure 2). The information bubble provides additional event detail.


Figure 2
(click on image to enlarge)
As you reorient or zoom in/out of the map view you may notice that event icons appear in two different sizes. Icon size indicates the importance or priority level of events with larger icons representing higher priority events and smaller icons showing lower priority events. This priority level is intended to reflect the degree to which the event impacts traffic. In addition to size, some icons may not be visible until you zoom into an area. This also has to do with the event's priority level.
Across the top of the screen are other options. If you click on the "Map Views" drop-down box, you can select from several areas of the state to narrow down your search. Once you make your selection, click on the "Go" button.


You may also zoom in and out of the map view with the Google map tools located on the map. The + and - buttons zoom in and out, as does the slider in between, which can be moved by clicking and dragging. The arrow buttons move/pan in the direction in which they point, while the button in the middle of these arrows take you back to the last view. You can also click and drag anywhere on the map to pan the map to a new location.
The view on the page at the time the website is closed will be retained when you return to the page.


"Future Info" button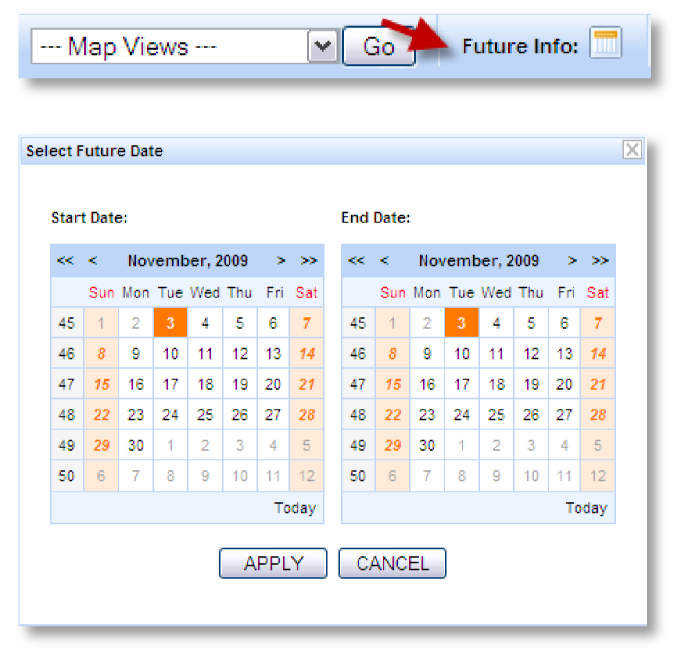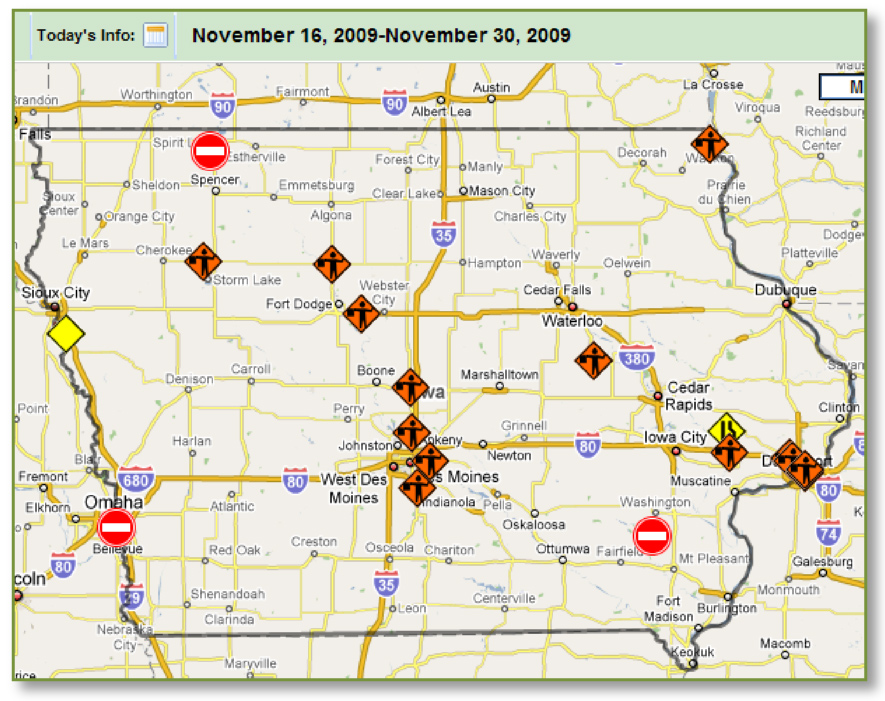 Figure 3 Figure 4

Another available option is the "Future Info" button. Click on it and a pair of calendars open (see Figure 3) in which you can select a beginning and ending date. Click the "Apply" button and a new map appears (see Figure 4) showing events scheduled to be in effect during this time period. Please keep in mind, events are subject to change.
Scrolling banner

There is a scrolling banner to the right of the "Future Info" button. This banner is activated if unplanned road closures are in place on state routes. If an AMBER alert has been issued in Iowa, a scrolling banner will also appear across the top of the screen with limited information about the alert. From the AMBER alert notice, a link is provided to an Iowa State Patrol's website with more detailed information about the AMBER alert.