Legend
Iowa road condition definitions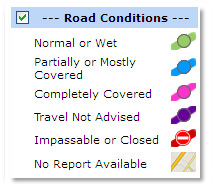 Note:
These definitions are intended to provide information to the public regarding the status of the roads reported from Oct. 15 to April 15. However, please remember that road conditions may change rapidly, and the status of current conditions is not always readily available. Road condition reports are only entered for interstates, U.S. highways and some Iowa highways. These conditions are reported by the Iowa State Patrol and are updated at a minimum of every two hours. A roadway with no report available does not indicate that normal winter driving is possible; adverse driving conditions may be present. It is always important for the public to be prepared to exercise caution while driving during the winter months.
Normal or wet: Normal winter driving conditions exist. This includes dry and wet roadways, but any precipitation on the road is not freezing. A wet condition could result in reduced traction.
Partially or mostly covered: Rain, frost, ice, sleet/slush, snow or a mixture of precipitation is causing the roadway to be partially covered (up to 50 percent) or mostly covered (more than 50 percent). Drivers may experience periods when roadway markings are difficult to see. With continued precipitation, the roadway surface may become slick, snow packed and rutted.
Completely covered: The roadway is completely covered with precipitation (i.e., rain, frost, ice, sleet/slush, snow or a mixture). Roadway markings are obscured making it difficult to differentiate between the roadway and its surroundings. These conditions can make travel difficult and hazardous.
Travel not advised: The roadway has deteriorated to the point that it is very dangerous to travel. Emergency vehicles and snow removal equipment may be called off of the roadway due to the conditions. Some weather conditions can be severe enough that roadway treatments, such as salt or sand, are not effective. In the event of an emergency, it may be impossible to get emergency vehicles to the scene.
Impassable or closed: A road that is impassable is blocked by snow or vehicles. A road that is closed has travel restricted by barricades, fence, gate, equipment/vehicles or other physical means. Iowa law prohibits motorists from entering a closed roadway or moving traffic control devices.
---
These are events (incidents, road construction, closures, etc.) that are not currently in progress, but are scheduled to occur within the next two weeks.
---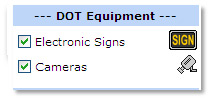 Cameras are available in five metro areas (Council Bluffs, Des Moines, Iowa City/Cedar Rapids, Quad Cities and Sioux City) by checking the "Cameras" box under "DOT Equipment.
Current messages displaying on electronic signs on the roadways are available by checking the "Electronic Signs" box under "DOT Equipment." If the sign has a message on it, the word "SIGN" on the icon, will be orange; otherwise it will be gray.


---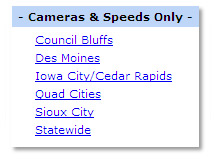 To view cameras and speeds only for the metro areas, click on the respective metro area link under "Cameras & Speeds Only." This will turn off all other icons and turn on the cameras and speeds only option. It will then zoom to the selected metro area. These views can also be bookmarked for future reference.
---

"Other State's Info" will turn on the information icons to access bordering states' traveler information websites.